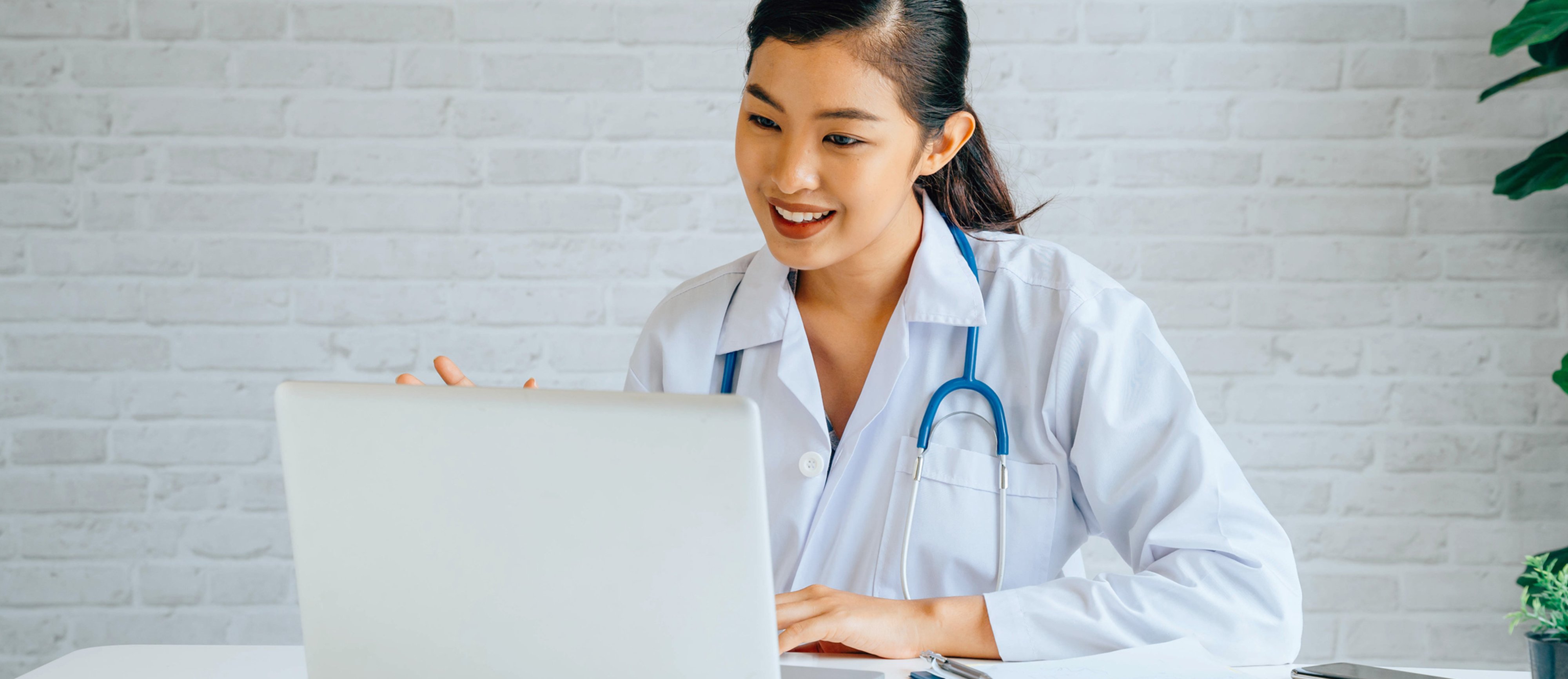 Thanks to COVID-19 and travel restrictions, virtual interviews are on the rise for all industries, including healthcare. For a physician, explaining your qualifications over technology is a lot different from pitching them in person. You may worry that you won't seem sincere enough when you can't meet your potential coworkers in person.
Unless you look like Dr. McSteamy on camera, you may have to put in a little effort to ace your virtual job interview. Here are ten best practices to help you make a great first impression.
1. Stage a Clean, Quiet, Well-Lit Space
Make sure the area where you will sit for the interview is free from clutter and distractions. A solid background or a bookcase works well to keep interviewers focused on your face. Make sure the room is quiet so that you can listen and be heard. Use a soft source of light to enhance the picture on the screen and bring energy to your conversation.
If you're interviewing from home, remember that you're giving others a glimpse into your personal life. If your surroundings are disorganized, the interviewers may make assumptions about your work ethic. How you live says a lot about how you will be in a work situation.
2. Test Your Technology in Advance
Do a tech run-through several times before the day of the interview to smooth out any problems you might struggle with under pressure. Make sure your technology is well maintained and download any apps or updates beforehand.
Missing an interview or having a poor one because of technical difficulties wastes everyone's time and certainly won't help you gain employment. Have a phone number readily available if your computer fails and you need an emergency backup plan.
3. Be Prepared
Review your resume and be prepared to support everything on it. Practice introducing yourself and responding to questions. Just like in a live interview, you want to be able to calmly respond to common questions based on your role and experience. Writing down answers to questions you anticipate is helpful.
Take it a step further by creating multiple case studies that address how you successfully handled different aspects of your role - and be ready to speak to them. A great exercise is to conduct a mock interview with a friend over video. That way, you can practice answering questions and familiarize yourself with the technology all at the same time.
4. Dress the Part
To show an interviewer that you are serious about the job, dressing for success is essential. Half of all interviewers eliminate candidates from the hiring process if they aren't dressed appropriately.
Don't wear sweatpants even if the camera is unlikely to catch them. Dressing in business attire will make you feel more confident and help you to come off that way. As a physician, you can also wear scrubs or a clean lab coat. It's okay to act as though you already have the position.
5. Be Authentic
You want to land a great job, but it's important that you get a job that is a good fit for you. Be honest about your expectations and show that you expect the same transparency. By being yourself during the interview, you can better ensure that you will fit into the workplace culture.
Don't be shy about asking the interviewers questions about themselves. This will help you to test whether your personalities mesh well before you meet in person.
6. Be Aware of Your Body Language
All eyes are on you during a virtual interview. When you focus on correctly answering a question, it can be easy to forget about your non-verbal communication. Display correct posture and maintain direct eye contact with the camera at all times. Be sure to use appropriate hand gestures or minimize them to avoid unnecessary distractions.
One-third of recruiters know if they will hire a candidate within the first 90 seconds based on their body language. Remaining conscious of your body language will ultimately enhance your overall interview performance and help you in future interviews.
7. Engage in Active Listening
A vital ingredient of a successful interview involves being able to listen. You must show that you are patient enough to hear what is being said to provide complete answers to your interviewer's questions.
While it may be tempting to answer as quickly as possible in an effort to sell yourself, showing that you are a thorough listener will demonstrate your interest in the position. Asking thoughtful questions expresses your desire to learn more about the opportunity.
8. Thank Everyone
Even if you feel that you bombed the interview, remember to thank everyone for their time when it is over. You may have done better than you think you have, and the chances are that there are others still to be interviewed. Good manners throughout the interview process go a long way toward making a lasting impression.
9. Remember to Follow Up
Although a virtual interview may have a sense of informality about it, you should still approach it professionally. Be sure to follow up within 24 hours after the interview with an email or a quick call. Responsiveness shows potential employers that you are interested in working with them and want to remain on their radar.
Sixty-eight percent of hiring managers say that job seeker who doesn't follow up jeopardize their candidacy. Messages should be relatively brief, with every name spelled correctly.
10. Work With VISTA
It is possible to sell your qualifications to potential employers through video-based platforms effectively. The best way to prepare is to work with a staffing partner who can supply you with the resources to succeed in every interview.
With opportunities in all 50 states and 30 years of experience, VISTA has helped thousands of professionals just like you prepare for and get placed in satisfying jobs. Contact us today to make a change for the better.