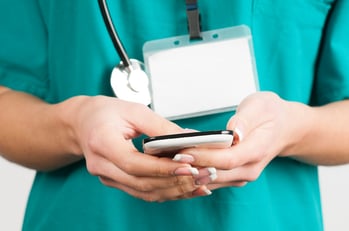 Quick, grab your medical dictionary! What, it's not within arms reach at all times of the day? What about your smartphone? That's what we thought. Smartphones and tablets have changed the way we function. From turning the house lights on before you get home, to checking on your sleeping baby in the nursery, technology has been a game changer in all aspects of our lives.
In the healthcare industry, it's no different. With mobile devices becoming so commonplace in healthcare settings, there has been a rapid growth in the development of medical apps. These applications have made it simple and quick for healthcare providers to look up medications and treatment options, use a medical calculator and even manage their time. Best of all, most of these are free to download and use!
So put down that outdated textbook and drug guide, and download these five best apps for healthcare professionals:
1. CRMD Finder
According to Michael S. Lloyd, a cardiac electrophysiologist, an estimated three million people are living with pacemakers, and about 600,000 pacemakers are implanted worldwide every year. With numbers as staggering as those, it's a mystery why this app wasn't invented sooner.
Physicians will agree — many patients don't keep their device information handy in the event of an emergency. When you get a chest x-ray of a patient, CRMD Finder will take you through an algorithm that will help you conclude the type of implantable cardiac device (ICD) your patient has.
Price: Free
Download on: iTunes (not currently available on Android)
2. MedCalx
This app is exactly as it seems, a medical calculator! It'll provide you with access to complicated medical formulas, classifications, scales and scores. The app supports both US and SI units and allows you to search for equations using names, categories and keywords. Additionally, you can set a customizable list of top-used equations for quicker access and share results by printing, email or copy to clipboard.
Price: Free
Download on: iTunes (not currently available on Android)
3. Isabel
Isabel is the diagnosis assistant you never knew you needed. The app's results have been validated by studies which have been peer reviewed in dozens of medical journals, making this a sound channel for any physician to double check their diagnoses. Isabel's database includes more than 6,000 disease presentations and symptoms, and the ability to refine results by age, gender and travel history.
Price: Free to download but in order to access any data and functions you need to purchase a monthly subscription of $10.99 or annual one for $119.99.
Download on: iTunes and Google Play
4. ACEP Toxicology Section Antidote
This app is great for when you get called about a patient with a drug overdose. While you may remember that Narcan is the antidote of a narcotic overdose, or glucagon for beta blockers, what about the IV dose for children? What is the infusion rate, frequency and follow up? That's where this app comes in handy. This well-designed and easy to use app stuffs a ton of critical information for those time sensitive moments.
Price: Free
Download on: iTunes and Google Play
5. Epocrates
Epocrates lists thousands of medications, including brand-name, generic and over-the-counter drugs. It also allows you to find providers for consultations and referrals, features an interaction check and a pill identifier.
The app also offers users access to health insurance formularies,and a growing provider directory.
Price: Free to download and use, for premium content like lab guides, alternative medications and disease information, download Epocrates Essential for $159.99 a year.
Download on: iTunes and Google Play
According to the National Institute of Health, more than 87% of healthcare providers use smartphones or a tablet in the workplace. Gone are the days of paper medical records, physicians rifling through textbooks for research and references, and antiquated diagnostic and calculating contraptions. With these apps, you'll get valuable, accurate and quick information to keep you working smarter. Ultimately, when healthcare providers use better tools, patients receive better healthcare. These apps are the key to more efficient, time-saving and accurate results.
Subscribe to physician updates from the VISTA blog and receive an email each time a new post is published!