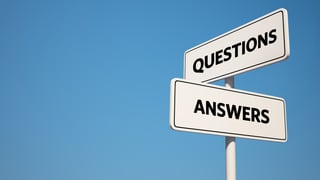 Working with an established locum tenens staffing agency comes with a lot of benefits. But if you're just starting out, it can also come with a lot of questions. Take it from clinicians like you!
Here are some of the most common answers to questions about connecting with a locum tenens recruiter:
"Why Did
You
Use a Recruiter?"
If you cut to the chase and ask practicing locum tenens physicians and advanced practitioners why they turn to a recruiter, their answer will most likely be something like, "I'm too busy to search on my own," or, "There are so many job boards out there—I didn't know where to start!" Many other locum tenens clinicians are led to recruiters through the referral of a trusted co-worker or friend, or simply because they like the idea of having an expert on their side, like a "personal agent."
Whether you're just out of residency or looking for a career change, finding a job can be overwhelming. Locum tenens recruiters are here to make it easier. From screening worksites to match your skills and interests, to helping with licensure and credentialing, your recruiter should work with you every step of the way.
"What Concerns Did You Have?"
Like anything new, working with a recruiter for the first time can come with concerns you want addressed before moving forward. Any of these sound familiar?
Fees or payments

Feeling like a number in a pile of resumes

Feeling pressured to taking a job or sign something
A reputable locum tenens recruiter will never charge you a placement fee and always give you a personal, pressure-free experience.
"Am I Expected to Take a Job Right Away?"
There's no commitment to speaking with a recruiter or taking a job, and you are free to simply explore your options. On the other hand, if your goal is to get to work right away, a recruiter should be able to find you an assignment that accommodates your wants and needs in a reasonable time. Keep the lines of communication open at all times to help your recruiter understand what you're looking for and when.
"What if a Recruiter Doesn't Have a Job For Me?"
Even if there isn't a perfect match right away, the beauty of establishing a relationship with a locum tenens recruiter is that they can keep an eye out for you. So when something comes along that does meet your criteria, they can reach out and save you the time of searching through job boards.
"Will Anyone Find Out that I'm Looking?"
It's a recruiter's job to keep your identity anonymous. They take your anonymity as serious as you do! In your discussion with your recruiter, be sure to let them know what your preferred method of contact is, and there will be no accidental calls to your current place of employment.
Don't Just Find a Job…
Yes, working with an experienced locum tenens recruiter like VISTA can help you find your next assignment. However, it can also be a valuable step to shaping your career. Your recruiter is there to get to know you, form a personal connection and provide one-on-one advice—plus, handle necessary steps like licensing and stay on top of any industry changes or requirements.
Still Have Questions? Ask Us!
At VISTA, we're dedicated to providing rewarding, flexible career options for physicians, nurse practitioners and physician assistants in every stage of their professional lives. Contact us today, or check out our open positions for Physicians and Advanced Practice Providers.