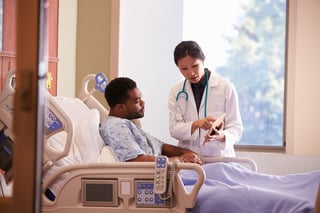 Hospitalists are defined by where they practice medicine — in the hospital, usually addressing severe illnesses and emergencies. If you've made a career in this specialty, you're familiar with long hours and heavy workloads, plus the benefits of a flexible schedule and the opportunities to connect with patients during their most critical time of need. Hospitalists that want to broaden their experience may find that locum tenens is a natural next step.
Considering a locum tenens position in hospital medicine? Ask yourself these 4 questions:
Can you throw the "on" switch?
Hospitalists that thrive on intensity do well with locums work. They're willing to be "on" for a block of long days, often a week or longer of 10- to 12-hour shifts. During these shifts, they'll see anywhere from 10 to 20 randomly assigned patients without the intimate knowledge that primary care doctors have. Locum tenens hospitalists must come with a thirst for creative problem-solving and compassion to treat each patient with respect, all while maintaining attention to detail and a sense of urgency in returning necessary credentialing materials.
Willing to be flexible?
Nocturnists are in high demand for hospital medicine. If you're looking to expand your options in this field, you should be open to shifts at any time needed, including nights, holidays and weekends. Strong locum tenens candidates for hospitalist programs are open and able to perform vent management, central lines and other procedures.
Locum tenens hospitalists should also be willing to work at all kinds of facilities, from 25-bed critical access hospitals to Trauma I facilities. This can mean traveling to different parts of the state or country, both rural and urban/metro locations.
Do you work well with others?
Locum tenens hospitalists need to be able to have effective conversations, especially through hand-offs when a patient is transitioning either to or from their care. Good communication skills are essential to gather background information from PCPs, and to coordinate follow-up care after discharge.
Are you passionate about patient care?
Even though time with each individual patient may be short, locum tenens hospitalists spend the majority of their time delivering direct patient care. A hospitalist's treatment and attention is critical during a serious or difficult time in a patient's life, when they may be upset or in pain. Hospitalists also act behind the scenes to make the places they work safer and more effective, leading committees or initiatives that improve efficiency, quality and collaboration between departments.
Hospitalist programs look for locum tenens candidates that can answer yes without hesitation to the questions above. Like all internists, hospitalists should be ABIM or AOA certified. Check out our latest hospitalist job postings or contact us today.