Are you a dedicated, intelligent, motivated person with a sense of humor and "gumption"? Then you just might have what it takes to work at VISTA!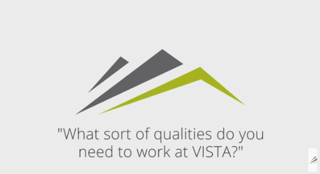 We sat down with a few employees to ask them about what qualities they think are needed to be part of VISTA. The answers were surprisingly similar, which speaks to the amazing culture that VISTA prides itself on.
At VISTA Staffing Solutions we believe that people create and sustain our brand. Join us and help build a great company, have a great career, and achieve financial success while placing physicians where they are really needed and giving doctors new career alternatives. Do something that matters, with interesting people who are interested in you.

View current VISTA Staffing Solutions job openings.
VISTA Staffing Solutions is a leading provider of temporary and permanent healthcare staffing services for providers and facilities around the world.


http://www.vistastaff.com