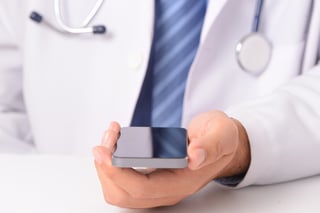 Do you have apps on your phone that help you get through the day? We mean mobile apps that keep you organized, remind you of things or save important files, help you reach goals or just stay connected and up to date. Now, how about apps for your patients?
There are countless mobile applications that are designed to provide people with self-management tools to improve chronic conditions, manage prescriptions, avoid complications and live healthier lives. We explore a few below, which apply to different chronic conditions or everyday routines.
1. 22otters
Better colonoscopy prep leads to more polyps found and removed, which can reduce the risk of colon cancer. The 22otters mobile app makes prep easier, giving patients checklist-style coaching and reminders of to-do's starting a week before their exam.
Free on Google Play.
2. AsthmaMD
AsthmaMD was created to help asthma and COPD patients manage their symptoms, triggers, medications and progress. With the app, patients can easily keep and access color graphs to visualize their asthma and share with their clinicians. Plus, it supports asthma and COPD research by giving doctors and researchers information from anonymous, opt-in users.
Free on iTunes and Google Play.
3. Blue Star
BlueStar is an FDA-cleared, comprehensive diabetes management app. With an access code from their employer, health plan or health care provider, a patient can get started and receive guidance, education and motivation to stay on top of their diabetes. Features include blood glucose tracking, medication organization tools, a comprehensive Food Diary and ability to sync fitness trackers.
Free on iTunes and Google Play.
4. CareZone
People who have young children, aging parents or conditions that require frequent visits to the doctor's can accumulate a lot of paperwork. CareZone provides a platform to store and manage notes, documents and appointments for multiple people to help cut down on the clutter and stay organized. In the case of an emergency, users have access to detailed medication lists, dosages and schedules. Plus, contact information for doctors, pharmacies, insurance and family members, and important health files.
Free on iTunes and Google Play.
5. Everseat
Scheduling appointments can often take multiple phone calls and create a hassle for patients and clinicians alike. Everseat enables patients to find and schedule appointments, tag preferred care sites, get directions to the nearest provider and set up appointment alerts. Clinicians can use the app to fill open slots and notify patients of their availability.
Free on iTunes and Google Play.
6. Medisafe Pill Reminder & Medication Tracker
Thousands of deaths every year are caused by medication non-adherence. The Medisafe mobile app aims to solve this problem by offering a "virtual pillbox," reminding users exactly when to take their prescription medications while educating them about their conditions. It also tracks progress, offers health tips and curates prescription coupons.
Free on iTunes and Google Play.
Are there other mobile apps you recommend to your patients? Comment below to share! And consider talking about the ones above with your patients and professional colleagues.
Looking for your next locum tenens assignment? Head over to our job boards for locum tenens physicians and advanced practice providers, or contact us to get started.