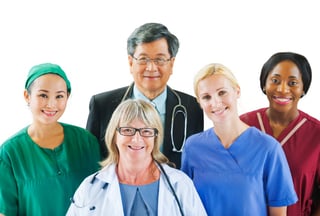 In recent years, physician demand has increased. According to Becker's Hospital Review, there are several reasons why demand is on the rise: patient volume is greater due to aging Baby Boomers, and there is an increase in insured patients due to the Affordable Care Act. There is also a steady rise of physician shortages, nationwide. To meet physician demand, locums are increasingly being relied upon to meet the staffing needs of hospitals and healthcare facilities—this has greatly increased the number of locum tenens jobs.
Becker's Hospital Review compiled a list of the most in-demand specialty areas for Locum Tenens. Survey responses were collected from 230 hospitals, medical groups, community health centers, and government health facilities. Let's take a look at the five specialties ranked highest in demand.
1. Primary Care
Primary care physicians are in high demand. The biggest impact on demand is the aging population—the number of patients aged 65 and older is projected to grow by 46% through 2025. The Affordable Care Act, while increasing the number of insured patients, is expected to account for 2% of projected growth in demand. Survey results indicate that 28.24% of respondents reported that primary care physicians are the most sought-after locum tenens.
2. Behavioral Health
Behavioral health, as a medical specialty, focuses on treatment for substance abuse and addiction, anxiety disorders, and stress, using a biological approach. 24.12% of survey respondents reported using locums to fill behavioral health staffing needs.
3. Hospitalists
Hospitalists specialize in caring for hospitalized patients. This position allows physicians to practice medicine without having to worry about the business-side of primary care. This is a growing specialty and continues to evolve due to many factors including:
Convenience

Efficiency

Increased financial strains on primary care doctors

Patient safety

Cost-effectiveness for hospitals

Increased need for more specialized care for hospitalized patients
Most hospitalists are trained internal medicine physicians. At the time of the survey, 24.12% of respondents reported using locum hospitalists.
4. Emergency Medicine
With a 12% increase in emergency department visits, the demand for providers is consistently rising, all while the physician shortage is also increasing. The survey indicated that 14.71% of respondents used locums to fill emergency department needs.
5. Surgery
The survey indicates that 14.12% of respondents called upon locum physicians to fill staffing needs in surgical specialties. Though surgery is one of the top-paying medical specialties and in-demand careers for physicians, a shortage still exists.
By 2025, it is projected that there will be a shortage of physicians—between 45,000 and 90,000—both in primary and specialty care. Healthcare facilities have historically been reluctant to rely on locum tenens as a viable alternative for staffing needs. However, this perception has changed radically. With current physician shortages and greater patient volume, locum jobs are highly desired by facilities. With such high demand for physicians, agencies are stepping in and meeting staffing and locum tenens needs like never before.