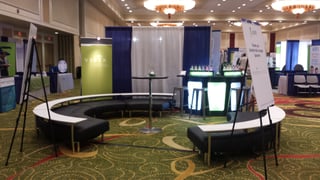 We had a great time at this year's Association of Staff Physician Recruiters Conferencein New Orleans – it's one of our favorite conferences of the year, because we love to see our clients and hear about their needs. Kurt Scott, Director of Physician Search and Consulting said, "I didn't think we could top last year's annual conference, but I was wrong! What a terrific show. Laura Screeney was a rock star and an amazing emcee, the lineup of speakers was awesome and the conference was really well run. As an exhibitor, I could not have been more pleased."VISTA was excited for the opportunity to sponsor the conference lounge spaces again this year, and provide an area for attendees to relax and recharge.
One of this year's break-out sessions, "The 4 Pillars of AP Recruitment," was presented by Aaron Blatt, Division Manager of Advanced Practice, and Kurt Scott, Director of Physician Search and Consulting. The presentation focused on how advanced practitioners can fill healthcare coverage gaps, where they can fit within organizations and how to recruit them. The presentation put these concepts into "4 pillars" of advanced practice recruitment; specialization, level of autonomy, economics and licensing.
Within these 4 pillars are tools and tips for obtaining the best AP recruitment experience, click here to see the 4 Pillars infographic.
We are already looking forward to next year's ASPR in San Diego. We hope to see you there, or at one of our other conferences this year.