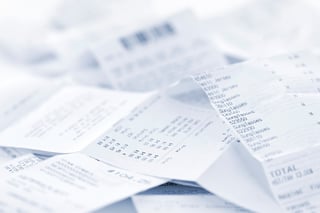 With the autonomy and flexibility of locum tenens comes the need to step up your financial management skills. Locum tenens work follows an independent contractor model, which means you're responsible for setting aside money for taxes and keeping tabs of business-related expenses. Tracking things like the miles you drive, the medical equipment you purchase and even your meals while on assignment can turn into tax benefits and deductions.
Luckily, technology is there to make it easier. Try these 5 powerful expense tracking mobile apps. They support all major currencies, offer multiple options for tracking mileage and integrate with popular accounting solutions to make bookkeeping a breeze, but each offers something a little different.
Expensify
No receipt? No problem. With Expensify, you can import credit card transactions and automatically have an IRS guaranteed eReceipt for any purchase under $75. Expensify includes SmartScan technology to make mobile receipt capture and expense creation easy. You can enter mileage manually, use your phone's GPS or snap a picture of your odometer. Expensify does more than time, mileage and expense tracking, too. Features like free flight alerts and automatic expense reporting based on trip itineraries make travel easier. Plus, you can use Expensify even if your phone is out of service or in airplane mode.
Free on iTunes and Google Play
Shoeboxed
Like Expensify, Shoeboxed gives users hassle-free mileage tracking and the power to snap a picture for easy receipt capture. But Shoeboxed takes it a step further by automatically extracting the vendor, total amount, payment method and date from the receipt, and then placing it into the most common tax categories. With original receipt images, you can also instantly create expense reports that you can send right from your phone. File and track on the go and have access to a searchable, sortable archive of your categorized, IRS-accepted receipts. The mobile app is linked to your own personal account at Shoeboxed.com, so you can do more with your receipts from your computer.
Free on iTunes and Google Play
BizXpenseTracker
Workaholic? BizXpenseTracker touts similar mileage and expense tracking features as above, and adds the convenience of automatic overtime calculations. An elegant user interface, smart functions and customization options combine to make data entry and reporting faster and more personal.
$6.99 on iTunes / $2.99 on Google Play
Concur
If you're on the road or in the sky frequently as a locum tenens professional, Concur helps you stay productive on the go. Manage and track business expenses and receipts from anywhere, plus book your airfare, hotels and more. Concur presents customized hotel suggestions and helps you manage your itinerary, and it integrates with TripIt and TripIt Pro.
Free on iTunes and Google Play
Dollarbird
If you're trying to keep a closer eye on your finances, Dollarbird will give you a complete view of where you stand financially—and where you could be standing in the future. Discover your spending habits, adjust them according to your goals and see how your balance evolves over time. A familiar calendar interface makes tracking and forecasting your money easy, and you can set up reminders for monthly bills.
Free on iTunes and Google Play
What's your favorite mobile app to stay on top of expenses? Comment below, and contact VISTA today or visit our job board to see open locum tenens opportunities.

This material has been prepared for informational purposes only, and is not intended to provide, and should not be relied on for, tax, legal or accounting advice. You should consult your own tax, legal and accounting advisors before making any business decisions or engaging in any transaction.