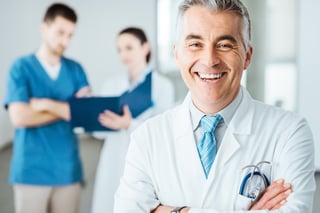 National Doctors' Day is an annual event to honor the service of physicians across the country. First observed in the 1930s, Doctors' Day is held on March 30th to commemorate the anniversary of the first use of general anesthesia in surgery on March 30th, 1842. Designated a national holiday under President Bush in 1990, Doctors' Day continues to be an occasion for patients to recognize doctors' commitment to their care and for physicians to celebrate the achievements of their fellow professionals.
National Doctors' Day 2017 is part of the second annual National Physicians Week, held March 25-31—giving all of us even more opportunities to show our appreciation for doctors everywhere. From red carnations to #ThanksDoc tweets, there are plenty of ways to give a shout out to the dedicated doctors in your life.
History of National Physicians Week
Physicians Working Together (PWT) was founded in June 2015 to provide a platform for doctors to collaborate and find solutions through shared experiences to improve patient care. PWT started National Physicians Week in 2016, and this week was declared an official national observance in December of that year.
There's no question why we celebrate doctors for a whole week. Doctors provide quality care all across the states at all hours of the day—listening to symptoms, talking with patients, dealing with high-stress situations and making critical, life-saving decisions. This week of recognition is important to honor the years of hard work and service that physicians provide.
How to Show Your Support
Throughout the week, take time to share your gratitude for your physician or fellow professionals. Not sure how? A simple gesture can go a long way!
Here are a few ideas to get you started:
Give red carnations, the flower that continues to be a symbol of Doctors' Day.

Mail greeting cards or email a thank-you.

Get creative with small tokens of appreciation, like chocolate or stress balls.

Say thanks online, change your profile picture, and encourage your social media followers to spread the word with #NationalPhysiciansWeek #NationalDoctorsDay #ThanksDoc #PhysiciansWorkingTogether #WhiteCoatWonders and other hashtags.
Happy Physicians Week & Doctors' Day!
From the team at VISTA, Happy National Physicians Week and Happy Doctors' Day to all of the dedicated physicians out there.
Can we help you get started with your next locum tenens assignment? Contact VISTA, or search our open positions for Physicians and Advanced Practice Providers.