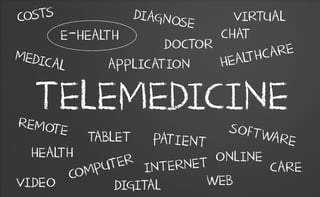 Telehealth services are quickly shifting the healthcare infrastructure by (1) improving patient access to care, (2) reducing healthcare costs, (3) improving healthcare services, and (4) increasing patient demand for telemedicine services. This post will discuss telemedicine, how it is used, and future projections of its success.
What Is Telemedicine?
Telemedicine — or telehealth — was introduced 40 years ago to extend hospital and physician care to patients living in remote and rural places. Currently, telemedicine is rapidly expanding and being integrated into hospitals, clinics, home health agencies, private physician offices, patients' homes, and workplaces. Modern telecommunication tools — two-way video, email, phone (landlines and smartphones), digital and wireless devices, and other medical technology products — are used to exchange medical information and services with the goal of improving patient health.
Typically, telemedicine is provided through a larger medical system or healthcare institution and is not a separate medical specialty. Delivery of clinical care is often provided by healthcare professionals working in a hospital, clinic, or home health agency.
Primary Uses of Telemedicine
Telemedicine is used to:
Diagnose
Monitor chronic diseases or conditions
Monitor vital signs
Prescribe medication
Provide nursing services
Provide specialist care (i.e., telecardiology, teleradiology, telepathology, etc.)
Types of Services Provided


Primary Care and Specialist Referral Services
Telemedicine allows a primary care professional to consult with a patient or a specialist for proper diagnosis of illnesses or conditions. Local clinics can also call upon the expertise of remote physicians through the use of live interactive video.
Remote Patient Monitoring
Devices are used to collect and send data remotely to a home health agency, or remote diagnostic testing facility (RDTF) for analysis and interpretation. A provider can also store and forward diagnostic images, vital signs, and patient data for future review. These services often supplement the use of visiting home health nurses.
Consumer Medical and Health Information
Wireless and digital devices allow patients to receive specialized health information from remote providers. Patients also have access to online peer support groups.
Medical Education
Telemedicine allows providers to receive continuing medical education credits through telecommunication devices.
Future Projections of Telemedicine
Telemedicine is growing rapidly and projected to continue growing at a rapid pace. Overall, patient satisfaction continues to rise — 64% of American Well Telehealth Consumer Survey 2015 respondents reported they would prefer to have an online video visit instead of an in-person visit with their physician. In 2015, 29 states enacted laws requiring health insurers to pay for telemedicine services.
In addition, it is projected that the telemedicine global market will grow at a 14.3 percent compound annual growth rate through 2020 — $36.2 billion compared to 14.3 billion in 2014. Other future projections include: (1) expanded reimbursement and payment models, (2) spreading of U.S. services internationally, and (3) the rise of telemedicine services in retail clinics and onsite health centers.
Telemedicine has helped eliminate barriers to proper medical care by treating patients where they live and work through telecommunication devices, making it an integral part of the healthcare system.