Working locum tenens in the government sector comes with unique professional and personal benefits. You have options across the nation, the flexibility to make your own schedule, plus the chance to give back to deserving populations in potentially exciting settings. And when you partner with VISTA, you have dedicated recruiters by your side, just as passionate about finding the right match as you are about finding a rewarding experience.
Take it from Kendrick McLaughlin, a government recruiter with VISTA for the past 13 years. She doesn't fill jobs and move on to the next — she forms partnerships built on trust, and she knows government work inside and out. Read on for some of Kendrick's many stories, and learn about her honest, straight-shooting approach to helping providers take on work they love while supporting government facilities with quality care.
What kind of providers and facilities do you work with? What do you look for in providers?
I work mostly with the VHA (Veterans Health Administration) and Indian Health facilities, primarily placing physicians. When it comes to recruiting, I really try to understand the drivers so I can meet their needs long term. I ask, "What would you change in your job if you could? What would you improve?"
There are myriad reasons why physicians are considering locums, and getting to the real reason is important. Some physicians want adventure, or they want to give back to underserved populations. Some physicians are disgruntled with their schedules, or they just need extra cash. I often hear, "I see patients all day and I have tons paperwork at night and no time for my family. I have no consecutive days off and no control over my schedule. I would make a move for a better location or a better hourly rate." Getting to the specific issue helps me to make a better match that works long term for everyone.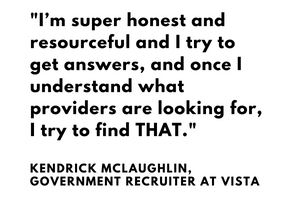 How do you find the right provider to match the job opportunity?
In the first place, it's really important for me to understand the clinical aspects of the job and also the culture. This is especially true for the VA and Indian Health — I want to make sure that the physicians will be sensitive to the patients in that community and facility, and, that they can handle the work. Once I understand the provider's job criteria, I find a couple of jobs that meet the criteria — at that point, it's easier to gain trust. I'm always honest about the details and I try to provide guidance as well, but I also listen.
What's your favorite part about being a recruiter for the government division?
I have to say that my favorite part is winning physicians over for long-time work, which has a huge impact on the facility and the community. It all kind of goes together. Many physicians have been working with me for 13 years; I love that part. I'm super honest and resourceful and I try to get answers, and once I understand what providers are looking for, I try to find THAT — that's when they see that I'm looking out for their best interests.
What advice do you give to providers who are new to government locum tenens work?
I sometimes tell providers who are starting out, "Be respectful and professional, and you'll earn respect." Often, RNs and other staff have worked at government hospitals for years and they know the internal systems and processes; on-boarding physicians should definitely win them over! I remind them that the RNs are an important part of the healthcare team, so value them, because they will be a great resource for you.
What's the toughest part about your job?
Finding coverage for some of our remote hospitals. I try to familiarize myself familiar with the area and educate providers on travel to the community and what it's like when they're on site. For example, we have several jobs in SD; I share details about the quaint and historic towns and proximity to national treasures, and I often tell the stories about other physicians' experiences that will help them relax around the idea of living part time in a community they've never been to.
What about unique perks to government work?
For some of the remote facilities, physicians have a chance to really practice medicine — this is much different from urban medicine. In remote areas, physicians treat patients for diseases and injuries that aren't typical, as well as a few traumatic accidents. My point is, it's exciting medicine! In general, physicians will be required to think things through because of the limited medical resources in the area. Several physicians have participated in wilderness medicine courses to enhance their treatment of common injuries and illnesses encountered in the wilderness — this appeals to some physicians. These jobs aren't for everyone!
What's the most frequently asked question you get from providers about government work?
That's a really good question. I'm often asked, "Do I have to have the ATLS (advanced trauma life support) certification for a low acuity ED?" And the answer is, "Yep, you do!" Even though the Emergency Department is mostly low acuity, with plenty of medical issues, you've got to be prepared. Interspersed in the routine patient care, there may be some trauma, and you're it!
Does the licensing and credentialing process differ compared to public sector work? The hiring process?
About six years ago, hospital applications in the government took a lot longer because of the addition of security background checks. Now, those are standard and we can actually get a provider pushed through in 5-6 weeks — a big improvement from before! Now government is actually faster than some commercial hospitals. And we'll help with the application process, but there's a lot of work for the provider as well.
If you had a magic wand and could make it known to all job applicants, what would you want them to know or be prepared for?
Electronic health records are here to stay! I encourage providers to take advantage of their orientation and learn about EHR and other internal processes unique to that facility. Frankly, our providers are responsible for integrating into a new environment; they can't go in and do things the way they always have.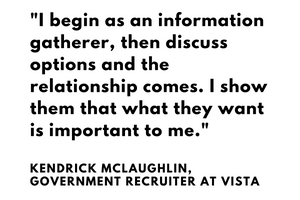 What is the most common mistake or error you see on resumes? During the application process?
A CV is not an interview on paper – it's basically education, training and work history, with licensure and certifications. The biggest mistake I see is overcomplicating the CV or making it too long.
What do you do when you can't find a position for a provider who is seeking a government position?
I make sure the provider is qualified and available, and I keep that person in mind as new jobs open up.
How do you handle last minute bumps or hiccups in an assignment?
It's helpful to communicate often during the onboarding process and be transparent about potential bumps — that may avoid some last-minute surprises. For example, with government providers we usually schedule and book travel when hospital privileges have been awarded to avoid aggravation and wasted time.
How do you gain trust with a candidate that has never worked with you before?
With all physicians that I work with, I try to understand the main things they want to accomplish. I begin as an information gatherer, then discuss options and the relationship comes. I show them that what they want is important to me.
What are the hallmarks of a "really, really good day" for you?
I pretty much try to stay steady and I aim for one good thing every day, like a great candidate for a job, or a good conversation with a prospect or a client who accepts a candidate.
What's your favorite government locum tenens success story?
A physician I recruited for Indian Health was understandably reluctant to leave his family behind for ten shifts a month; he lived in Tennessee with his wife and two daughters. I told him about other physicians who have worked in that same community and he decided to go for it. After a couple of months working there, he came back and said, "I love doing this!" He shared that when you work as an emergency medicine physician in the community where you live, it's hard and physical and the shifts are 12 hours, and you're inevitably needed by the family when you get home. So it's hard to get adequate sleep to be prepared for work the next day. He said it's actually easier this way — he works, eats and goes to bed, and that's all he has to do — when his assignment is over, he flies home to devote himself to his family. He worked for VISTA for three years, flying back and forth and loving it!
We're Prepared to Find the Perfect Fit
As Kendrick's stories illuminate, not every government gig is for every provider. However, when you partner with VISTA, you can rest assured we'll get to know you, understand the facility and only pursue matches that make sense. Check out our government job board, or contact us to get in touch with a recruiter like Kendrick.