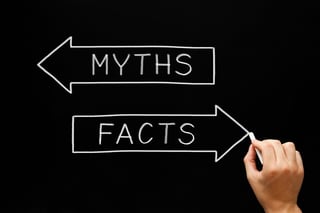 Most physicians and advanced practitioners today are familiar with locum tenens as a practice alternative. But even though locum tenens professionals are widely viewed as trusted experts, there are many misconceptions to tackle about the advantages locum tenens has to offer.
Here are five of the most common myths we encounter —and what to really expect from working locum tenens!
1. The Work is Too Unpredictable and Demanding
With locum tenens work, you choose your schedule. It's a good fit if you're looking for blocks of time off to spend with family, traveling or pursuing interests, but it's not just for semi-retired physicians. Ultimately, you have the freedom and flexibility to create your own work-life balance.
2. You Can't Get to Know Your Patients
In truth, locum tenens professionals often have less administrative paperwork and hassles to deal with. Less paperwork means more quality time with patients. Locum tenens physicians collectively receive high patient satisfaction reports across the country, and many cite the ability to get back to "true medicine" as a tremendous benefit.
3. The Money Isn't As Good
Locum tenens professionals must get comfortable managing their own expenses, income and other items as independent contractors, but there are many potential financial perks to locums work. See our post on tax tips for 1099 employees for ways to keep more money in your pocket.
4. It Doesn't Look Great on Your Resume
On the contrary, working locum tenens can be a great resume booster—for new graduates or seasoned professionals. It shows you have a variety of experience and are able to adapt to different environments, situations and team dynamics.
5. It's Not a Stable Career
Even though a flexible schedule is often highlighted as a key benefit of locums work, that's not to say that work is unsteady. There will always be a demand for physicians—including locum tenens physicians. It can be a permanent way to make a living, lead to recurring assignments with the same medical facility or serve as a stepping stone to your next full-time job.
Heard any other myths that need busting? Let us know, and help us spread the truth about locum tenens. Thinking about where a locum tenens assignment could lead you? Contact VISTA today or visit our job board.