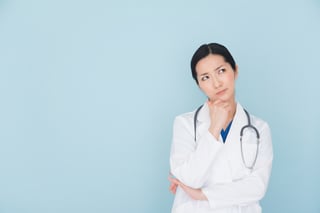 What do almost all medical school graduates have in common? This isn't a clever riddle. The answer is enormous debt.
In 2015, the average medical school debt balance for graduating physicians was $183,000. Added to the average undergraduate balance of $24,000, the total average student loan balance for a doctor was a staggering $207,000—and that number is no doubt even higher today.
Whether you're just out of school or not, locum tenens can provide a great opportunity for physicians and advanced practice providers to pay down student loans and other debt. How does locum tenens work set you up for financial success? Three big ways.
The Power of Negotiation
A shortage of clinicians across the country means demand is high across specialties, which also means pay rates for locum tenens professionals are highly competitive—and the power is in your hands. As a locum tenens clinician, your contract and salary are negotiable, and offers are yours to accept or decline. Pay rates may be higher where patient volume is above average, in remote areas of the country where services are less accessible or where a position has been vacant awhile. But note that if you ask around, you're unlikely to see a drastic difference in locum tenens pay rates offered for the same specialty from facility to facility. Contract negotiations can extend beyond pay rate to things like schedule and shift preferences, too.
Smart Financial Planning Opportunities
As a locum tenens provider, you are an independent contractor, so income and social security taxes are not withheld from your paycheck as they would be if you were a full-time employee. If you're unprepared, you could be in for an unpleasant surprise come tax time! However, with the right planning, you can make the independent contractor model work to keep more money in your pockets. One step to take is to "escrow" or set aside a percentage of your earnings when setting up your 1099 at the beginning of each year working as a locum tenens provider. This means no unmanageable sum due in April, and also you may find you can better focus on paying off debt throughout the year.
If you decide to take a permanent placement instead, locum tenens can still provide a way to tackle debt. Consider working locum tenens during paid time off, so you can earn double with your vacation days!
A Partner on Your Side…
When you work through a trusted staffing agency, you have someone in your court that can help you plan your future, not just find your next job. At VISTA, our primary concern is matching you with assignments that fit your requirements, including a pay rate you think is fair. Keep the lines of communication open with your recruiter and make financial goals like paying off debt known, so they can help you reach them faster.
If you're a recent medical school graduate looking for more tips, or you're ready to get started with a career in locum tenens, we're here to help. Contact us or visit our job board to explore potential opportunities.