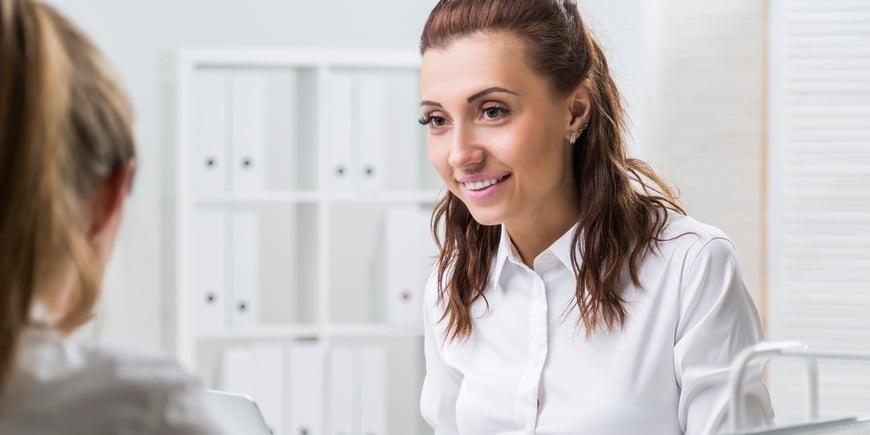 We talk about the clinician perspective a lot on our blog. What about the healthcare recruiters who place them and ensure continuity of care?
At VISTA, our mission is to help hospitals, medical practices and government agencies optimize their physician and advanced practitioner staffing, and to connect clinicians with rewarding opportunities at any stage in their career. Our recruiters make it all possible—building relationships, doing research and finding the right matches.
Today's post features a Q&A with a VISTA healthcare recruiter, to put the spotlight on the professionals behind the scenes at VISTA:
How do you describe what you do for a living?
My job is to match the right clinicians with the right job opportunities. At VISTA, we have a large database of different providers—my search to fill a position or locum tenens assignment starts there. I dig in and narrow down my search based on certain criteria and requirements, like location, position or title.
If I don't have any luck with my database search, I'll tap into other resources. This can involve outsourcing and turning to social media to find clinicians to fill certain needs. Especially in emergency medicine, we're trying to attract clinicians to the best matched job, or opportunities to work additional shifts. We also value referrals from other clinicians.
What's your favorite part about being a healthcare recruiter?
There are many rewarding elements to being a healthcare recruiter, including the ability to build relationships with physicians and get to know people. On top of that, there's the satisfaction of knowing that I'm helping patients and facilities get the coverage they need and placing clinicians where there might not be a lot of healthcare options. It's rewarding to feel part of something that's so critical.
What's the toughest part?
When I'm trying to find the right match for the right job, I try to put myself into that provider's shoes and make sure they're happy. The toughest part can be getting a new clinician through the whole process, because it can be lengthy.
If you had a magic wand and could make it known to all job applicants, what would you want them to know or be prepared for?
If there was one thing I could let all job applicants know, it's that it takes time to get placed. We simplify the process for our applicants, but it is still up to the job site to do their due diligence, which means some things are out of the applicant's hands. Be prepared to practice some patience.
What is the most common mistake or error you see on resumes?
Some of the most common CV errors I see include failing to follow formatting guidelines that sites give and making CVs longer than they need to be. I've noticed in recent years that sites want to see more background information, but obvious things (like high school graduation details) are not necessary.
How do you gain trust with a candidate that has never worked with you before?
I gain trust by being open and honest. It's my job to listen to their needs and wants, and to do my best to take care of them. My goal is to do a good job, and hopefully they come back in the future!
How do you "pitch" a candidate to a facility once you believe you have found a good match?
Pitching candidates to sites is a big part of our work at VISTA. When we have a good match, we reach out to sites and share that we have a great provider moving to the area, giving the selling points on the doctor and how they can help, along with references from past medical directors. There are periods of time when sites are not looking, but that's why we do this type of research consistently—to keep site communication lines open and always have a pipeline of opportunities.
What do you do when you can't find a position for a provider seeking employment?
I'm always honest with providers—there's no need to lead them on to an assignment that doesn't exist. I let them know that if something opens up at their rate and interest, we'll follow up. We try to narrow down communications to the type of position they are interested in based on our database.
How do you maintain relationships with candidates?
There are two types of candidate relationships we try to build and maintain as healthcare recruiters. The first is with active doctors that have worked with us in the past. We reach out about once a month to ask how they're doing and mention that we're there for support. Or we'll send important updates or information to this group, like announcements and articles.
The second type of candidate we nurture relationships with are those we've never worked with before. There's a fine balance between helping and taking time out of their day, so we're careful to only send openings they've expressed interest in, and follow up when we say we're going to.
How do you handle last minute bumps or hiccups in an assignment?
Things happen, and the best approach is to be straightforward with candidates and work to resolve the hiccups as quickly as possible. It's not ideal to need to call a provider if an assignment doesn't work out, but consistent, open communication helps smooth things over.
What are the hallmarks of a "really, really good day" for you?
Sometimes, a really good day could mean a really great conversation with a doctor. Or it's when everything goes smoothly and you have an awesome feeling all day. Sometimes it happens when you've been working with a provider for months and you finally get them matched with an assignment. Celebrate the small successes and they eventually turn into a really good day.
What's your favorite success story?
I can think of quite a few, but off the top of my head—when I was in my first few months on the team, I talked with a provider and really connected with him. He was moving from CA to NY, I was able to place him and we still stay in touch. Since then, I've been sent 10 to 15 candidates to build similar relationships because of my proximity to them, and it's helped me build my book of business. It's great to hear from referrals they were told to, "Call a VISTA recruiter, they'll take care of you."
At VISTA, passion and commitment are part of the mix when it comes to our recruiters' top qualities. Want to ask a recruiter a question directly? Comment below or click here. Or check out our job board to start your job search today!