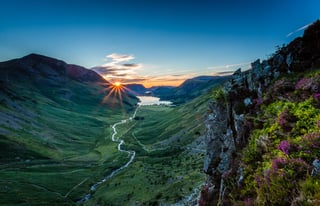 Ah, summer. Temperatures are climbing and vacation plans are being made across the country. It's a great time to try out a new location and switch up your locum tenens scenery!
Here's a quick peek at six states for locum tenens physicians, physician assistants and nurse practitioners to investigate while the heat is on. These places are extremely cold for most of the year, so take advantage of the summer weather to enjoy and explore:
Alaska
Known as "The Last Frontier," Alaska is truly one of the wildest places an outdoor enthusiast could hope to visit. With 14 mountain ranges, more than 3 million lakes, nearly 22 million acres of national forest and a longer coastline than all other states combined, Alaska offers an awe-inspiring escape from everyday life and plenty of opportunities for adventure. Visit during June or July and you'll understand why the state is also called "Land of the Midnight Sun." (Alaskans experience nearly 24 hours of daylight during these months.) In an effort to preserve the land's natural beauty, Alaska is one of only four states that prohibits billboards, so your roadside view will be uninterrupted.
Michigan
Bordering four of the Great Lakes, Michigan is a picture-perfect summer destination. But there's more to do than relax by the water. It's home to sports fanatics, music lovers, history buffs and automobile enthusiasts, with midwestern hospitality mixed through. Michigan's unique bucket-list opportunities include hiking the Sleeping Bear Dunes, exploring the Upper Peninsula's hidden waterfalls, driving through the Tunnel of Trees and topping it all off with an iconic coney dog.
Oregon
Portlandia called it a place "where young people go to retire." And if trendy Portland is not enough to entice you to consider Oregon for your summertime locum tenens assignment, how about tax-free shopping and no humidity? Experience breathtaking scenery, hundreds of golf courses, streetfood, world-class donuts and a judgement-free vibe. From winetasting to stargazing to dune riding and more, there are plenty of things to try out in Oregon.
Utah
Known for its skiing in the winter, Utah is a summer paradise for hikers, mountain bikers and white-water rafters. Take a locum tenens assignment here to check the "Mighty Five" National Parks off your list all in one state—Zion, Bryce Canyon, Arches, Capitol Reef and Canyonlands. If you're into the stars, San Rafael Swell has some of the darkest skies for exploring the constellations, and its canyons have hosted the Mars Society for practice landings. Some other reasons Utah is pretty cool: an epic music and festival scene, salt flat car racing and the densest concentration of fossils ever discovered. Who knew?
Vermont
Home of The Ben & Jerry's Factory. (Do we even need to go on?) Beyond delicious ice cream combinations, you can expect endless trees, covered bridges, maple-flavored everything and eco-friendly neighbors in Vermont. Like Alaska, there are no billboards to distract from the scenery. And to balance out your ice cream fix, Vermont is famous for its farmer's markets and healthier options. In fact, Montpelier is the only U.S. state capital without a McDonald's.
Washington
Washingtonians appreciate a good drink. Whether you're a beer, wine or coffee snob, there are plenty of popular places to impress your palate, and a number of microbreweries and distilleries to quench your thirst. Washington is also home to beautiful water and mountain views, with three national parks—Olympic, Mount Rainier and North Cascades. And it comes as no surprise that the Evergreen State is consistently crowned the best state for biking by the League of American Bicyclists.
Land Your Next Assignment
Now that you have some ideas for your ideal summer stomping ground, line up your next locum tenens assignment. Looking for tips to get through airport security? Click here for some helpful travel advice.
If you're ready to travel somewhere new during the summer, talk to an experienced recruiter. Contact us today or visit our job board!