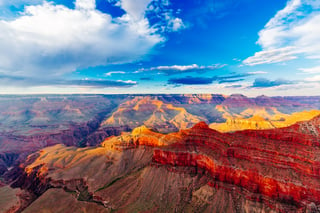 What comes to mind when you think of the Southwestern United States? If it's desert expanse and scorching temperatures, you're partly right—but there's a lot more to take in. The Southwest includes Arizona and New Mexico as well as parts of California, Nevada, Utah, Colorado and Texas. No matter where you're from or where specifically you land, the Southwest has a lot to offer as a new escape with your next assignment as a locum tenens physician, PA or NP.
For one thing, if you're used to rolling hills, city skylines or east coast humidity, you're in for a totally new world in the Southwest. Prepare to fill your phone with pictures—and not just of sand formations.
Here are our favorite reasons to try the Southwest for your next locum tenens assignment:
Breathtaking Beauty
Did you know that more than one-third of our national parks are in the Southwest? From Arches to Zion, you can check some of the most spectacular sites in our country off your list in the right roadtrip. Not to mention fantastic rock climbing opportunities. Also not to miss: the Valley of Fire State Park in southern Nevada, Mesa Verde's ancient Pueblo cliff dwellings and the yucca trees of Joshua Tree National Park. If you want the full tourist experience, it doesn't get more bucket-list-worthy than The Grand Canyon. From hikers to mountain bikers to photographers, outdoor enthusiasts can be in their element throughout the Southwest.
Home of American Classics
Some of our country's most famous sites and unique cities are found in the Southwest. You can brush up on your history at the Hoover Dam, embrace some Americana nostalgia along Route 66 or make responsible choices in Las Vegas. See the headquarters of the LDS community in Salt Lake City or leave your mark by spray painting one of the art installations at Cadillac Ranch in Texas. Enjoy California wine country or, if movies are your thing, there's always LA.
Open Skies, Beautiful Drives
As you might have gathered, there's no lack of excitement and adventure in the Southwest. At the same time, it can also offer a perfect getaway from the hustle and bustle. In certain areas, there's virtually no light pollution to block your view of starry skies. Plus, some of what are dubbed "the loneliest roads" in America weave through the Southwest. For instance, Pacific Coast Highway (or State Route 1) offers one of the best drives in the country for sightseeing.
One More Plug for Arizona—Multiple State Licenses
Arizona is a state of principal licensure in the Interstate Medical Licensure Compact. What does that mean for you? If you practice or reside there, you can apply for a letter of qualification and be issued new licenses in any of the 18 states that participate in the compact, including Utah, Nevada and Colorado. Take advantage of this new path to multi-state licensure by working with VISTA's experienced, in-house licensing team.
Plan Your Next Assignment in the Southwest
Is the Southwest calling you? Contact us today to talk to a recruiter, or visit our job board to get started!