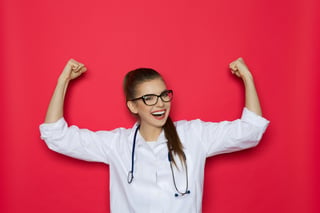 Hospitals, doctor's offices and clinicians of television are not exactly true to life. But sometimes the themes shared on our favorite binge-worthy shows hit the nail on the head. Focus beyond the absurdities and McDreamy good looks and there's something we can all learn, whether you actually practice medicine or not.
Here are six of our favorite life lessons from TV doctors:
Lesson 1: Take Time for Self-Reflection
Doogie Howser was wise beyond his years in many ways. Not only did he graduate medical school at the age of 14, but he finished each day as a doctor by recording an entry in his personal journal. In doing so, he taught us it's always a great idea to take time to reflect, to move mindfully through our days and constantly examine why we do what we do.
Lesson 2: Live Each Day As If It's Your Last
Life can change in a split second. Nothing is constant or guaranteed. Grey's Anatomy is filled with heart-wrenching plot twists that (beyond making us weep) remind us of how fragile and unpredictable life can be. So whether it's with a patient, a colleague or yourself, always treat life as a precious gift.
Lesson 3: Treat. Release. Move On.
It's easy for our thoughts to circle back to the workplace. We all question at one point or another if we could have done something faster or better, and this is particularly true for medical professionals. ER captured the lesson that there's always another chaotic event around the corner, and dwelling on everything you couldn't do will get you nowhere. Our only option is to keep moving forward and focus on what's ahead.
Lesson 4: A Little Humor a Day Keeps the Blues Away
Practicing medicine is serious and so are health issues—but laughter is the key to sanity. Scrubs reminds us that there's humor to be found in every situation, and it can be a powerful way for doctors to connect with patients and each other.
Lesson 5: Even the Hardest Puzzles Have a Solution
Dr. House has a knack for seeing through his patients' lies, looking past the surface and getting to the truth (often through unconventional means). The show House is a great reminder that even when we face seemingly insurmountable obstacles or unsolvable riddles, there's always an answer to be found—sometimes it just takes a shift in perspective or change in approach.
Lesson 6: We're All Capable of Greatness
Dr. Quinn, Medicine Woman taught us that it doesn't matter who we are but what we do. Man or woman, we are capable of anything we set our minds and hearts to. As a woman doctor in a post-Civil War frontier town, Dr. Michaela "Mike" Quinn challenged the status quo and inspired her community. The lesson? Don't be intimidated or make assumptions about what someone brings to the table based on their outward appearance.
What Have Fictional Doctors Taught You?
Can you think of any noteworthy medical shows or TV doctors we missed? Leave a comment below and tell us about your favorites.
Ready to talk about your career as a physician, nurse practitioner or physician assistant? Contact us today or visit our job board!