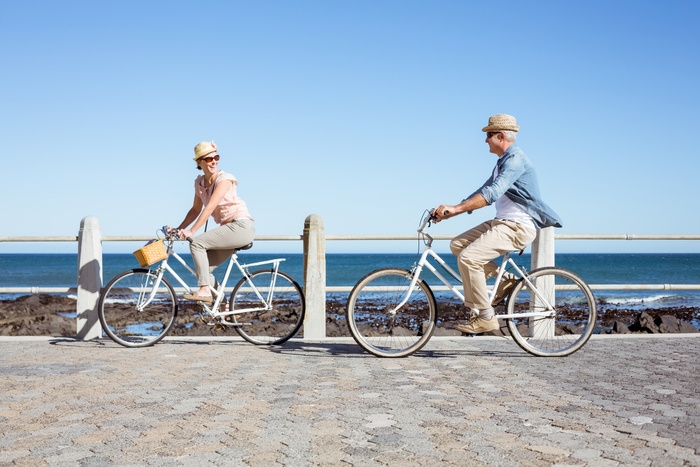 Your significant other plays a major role in your healthcare career. He or she has been with you through the tough times and celebrated your successes by your side. But when you first tell your significant other about potential locum tenens assignments, there are a few things they may want to know. And their understanding of this arrangement will help you make the right decision together. Fortunately, we've anticipated four questions your significant other may have about a locum tenens assignment so that you'll be ready with the answers.
"Can I join you on assignments?"
Many clinicians who decide to take a locum tenens assignment do bring their significant other with them. And a locum tenens recruiter not only assists with placing you on an assignment; they can also make comfortable accommodations for your family. Dr. Mark Rholl, a former VISTA physician and recent retiree, worked locum tenens for 7 years with his wife Carol at his side. He suggests that if a clinician is married, they make their spouse as comfortable as possible with the idea. According to Dr. Rholl, "You have to be ready to enjoy these new experiences together. "Bringing your significant other on a long-term assignment offers many benefits to both of you:
It makes the locum tenens accommodations feel more like home. Even though you're in a different place, you have your significant other with you, and the assignment can double as an extended vacation. It's also a chance to visit destinations on your travel wish-list together.

You don't miss out on time with your significant other. You can share your day, enjoy a meal together or go out for a night in the new city. For this reason, clinicians who bring their significant other along on assignments have better work-life balance.

Having your significant other there with you eliminates feelings of isolation and loneliness. You have someone to talk to, in-person, after a particularly long day.
"Where will we go?"
Locum tenens assignments are available everywhere, and a recruiting agency like VISTA can help you find them anywhere across the US - from Alaska to Hawaii - and even in your own backyard (if your significant other will not be joining you on your assignment, you may consider looking for facilities that are closer to home).When you sit down with your significant other to discuss potential locations, talk about what's important to each of you. This may be proximity to a particular community or access to nature or major cities. If you have an opportunity to work near family in a different part of the country, this may also be a great time to reconnect and spend more time with them. Wherever you decide to go, Dr. Rholl gives this advice: "When you go to a new area, try to understand what's going on, then jump in and get involved in the community. Try to learn from them and let them know you're interested in learning from them." Becoming a part of your new community can enhance the experience for both you and your significant other.
"How long do locum tenens assignments last?"
Each locum tenens assignment is different, and the length of the assignment depends on the need you're fulfilling. For example, a hospital may request a locum tenens physician because their permanent physician is taking a vacation. In those cases, an assignment might last 2-3 weeks.
Conversely, if there's a long-term need, a locum tenens assignment could last a year or more. Before being placed, you will be informed of the length of the assignment, and you and your significant other can determine whether or not it fits your needs.
"How consistent are locum tenens assignments?"
Locum tenens work can be unpredictable. But the demand for locum tenens clinicians is high, and partnering with a recruiting agency can help you avoid gaps in between assignments.
Dr. Guo, a former VISTA physician, offers this advice based on his locum tenens experience: "During the time I'm working, I start to plan for my next assignment to minimize unwanted gaps between contracts. It helps to have one or more sites that have an ongoing flexible need without minimum monthly commitments."
Your Significant Other Has Questions. We Have Answers.
It's important that your significant other feels comfortable and informed about your locum tenens work. Having his or her full support will make your locum tenens assignment much more rewarding for both of you. These answers can help you have a thoughtful conversation about your locum tenens assignment when questions arise.