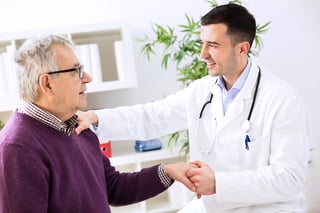 If you're a locum tenens clinician already or considering it as a career option, we've got three reasons you can feel confident continuing down the locums path. No earth-shattering stats here, but some great reminders and recent stats to support that locum tenens has a lot to offer!
1. Skyrocketing Demand
It's not a huge surprise that locum tenens clinicians are needed. A national shortage of physicians combined with more insured Americans has increased the pressure on clinicians significantly, giving locum tenens clinicians unprecedented opportunities. But still, a 2015 study projected U.S. physician shortages of 65,500 by 2020—and 90,400 by 2025.
What does that mean for locum tenens? Demand through the roof. In fact, according to industry analysts, revenue in the U.S. from locum tenens grew to $3.4 billion in 2016, up an impressive $2 billion since 2006. The greatest opportunity is for primary and hospital care, but demand for locum tenens NPs and PAs is growing, too!
2. More Clinicians Choosing Locums
Locum tenens has been traditionally mislabeled as a way to transition into retirement, or only an option for clinicians who have been practicing for years. However, as demand rises across the country, so has interest across the board among physicians, NPs and PAs. A 2016 survey by The Physicians Foundation found that 11.5% of physicians planned to work locum tenens that year, up from 9.1% in 2014.
Why the shift in popularity? There's a lot to love about locum tenens. It's great for any stage in your career and can mean seeing new places and practice settings you wouldn't otherwise have experienced.
"I've had an excellent experience as a locums. VISTA has provided me with a wonderful team that has given me great direction and support, along with the opportunity to have experienced, and practiced, in a beautiful part of the country previously unknown to me."
-Peter E., Locum Tenens Physician
3. Opportunities Are Everywhere!
You can be placed for a locum tenens assignment in any state in the U.S. and even explore international placements. Locum tenens clinicians are needed in lots of different healthcare settings, too. From urgent care facilities to corporate employee wellness screenings, at Indian Health Services programs and walk-in clinics, in state hospitals, schools, government facilities and beyond. Wherever you can picture yourself practicing medicine, there's likely a locum tenens opportunity available.
Is Locum Tenens Calling You?
Or if you're already practicing as a locum tenens clinician, are you looking for your next assignment? Check out our open positions for Physicians and Advanced Practice Providers, or contact us today!